About Our Pastors
Pastors Keith & W. Denise Cooper have been faithfully serving together in the ministry for over 36 years. Their passion and zeal for the Word of God, is evident, as they continue to go forth, in unity, not only to preach and teach the Word, but also to demonstrate the power of God in their lives, to be examples, encouraging others to follow them as they follow Christ.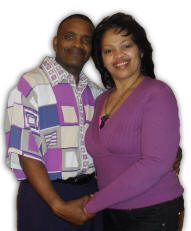 Both Pastors Keith & W. Denise Cooper, fervently and vigorously strive to serve God and his people with great commitment and vigor, ministering at home, in conferences, seminars, and other ministries as well.
Over the years, they have received biblical instruction and training from Detroit Bible College, William Tyndale and Word of Faith International Christian Center Bible Training School, Southfield, MI.
Pastors Keith & Denise have been lovingly married for 39 years. They have been blessed with three adult children: Keila and her husband Jake and their children, Kristin, Jaimen and Kennedy. Keith II and Kornelia and her son Michael Keith.

Contact Us
pastorkc@nbcofc.org